Videos are a powerful tool in marketing, mainly because it makes the user listen, read, and watch simultaneously. Video ads can be in-streams, outstreams or sliders, each boasting a certain set of advantages. In this article we are going to elaborate on these ad formats, their respective advantages, their applicability to various audiences and verticals, and the ways to craft your very own video ad (pitfalls to avoid included). Having read the article, you will know for certain which format suits your campaign goals the best, which helps to maximize the ad impressions without overspending.
---
Video ads can be different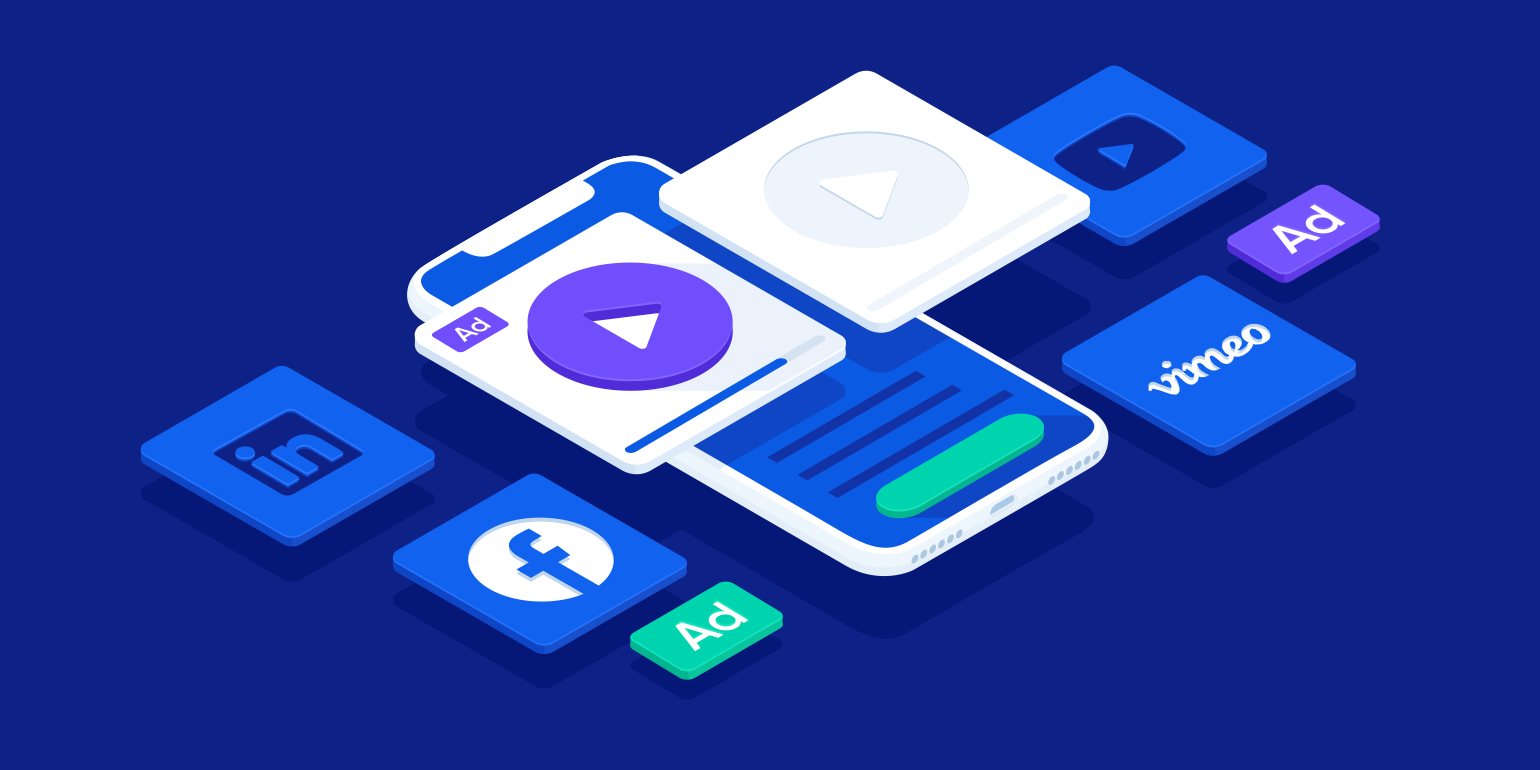 Video ads possess a greater number of communication channels, which means wider coverage; you engage with people who like to watch, read, and listen – all at the same time. Moreover, about 87% of marketers confirmed that video ads have improved their sales in 2023, the same metric for lead generation and brand awareness is even higher.
Generally, there are 3 main formats of video ads, some of which can have subcategories:
In-stream ads

– which include pre-rolls, mid-rolls, post-rolls. A good example would be

YouTube

, where the video of the user's choice is preceded with an ad that has to be watched for 5 seconds at least. The preposition before the word "roll" points out the place of the ad: before, amid, or after the main video. 

Outstream ads

– those are the ads that don't appear inside a video but do appear inside some content: in-page, in-banner, or in-text. They start muted, taking a large portion of the screen. A prominent example of these ads is

Facebook's

newsfeed. Once the user scrolls down, the ad can either be left behind or optimized to transform seamlessly into…a slider ad

Slider ads

– a.k.a. corner docked, these ads usually take the bottom right part of the screen, are also muted initially, and travel with the user throughout the page. Technically, they can be either in-stream or outstream ads, which makes them stand out. This type of ads can be found on gaming

Wikis

for example.
All the video ads can be divided into skippable, bumper-like, and unskippable. Skippable ads can be long, up to 3 minutes on YouTube but are obliged to have the skip button made available after 5 seconds. Unskippable ones don't have that button but must not exceed 15 seconds in total. Bumpers sit in-between these two, lasting less than 6 seconds, rendering the skip button insignificant.
Finally, video ads can be totally native and constitute an inseparable part of the video; they can even be a full-scale video. However, this is the territory of influence marketing, which goes beyond the goals of this article.
Video ads for various platforms and verticals
As with any vertical or product, you need to know your target audience first. According to Statcounter, mobile devices are more popular among users worldwide than desktops. Consequently, you have to optimize your ads accordingly, because mobile layout differs significantly from desktop.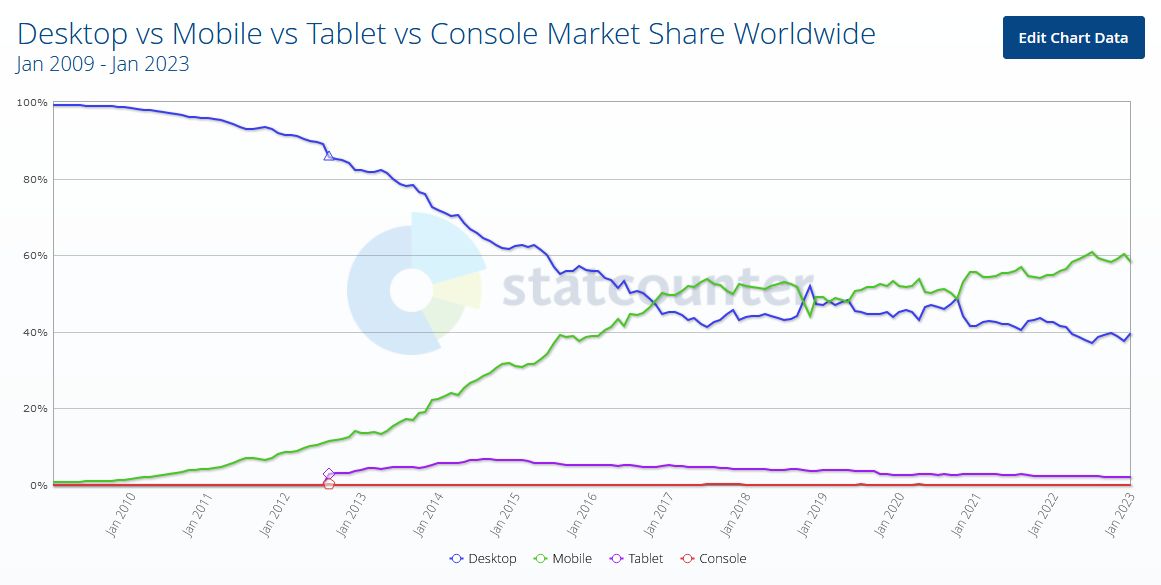 Source: Statcounter
If you struggle to pick the optimal format, consider this: unskippable pre-rolls are perceived as 3.5x less interrupting, especially on mobile devices — people are accustomed to seeing the ads before their video of choice starts. However, pre-rolls are too common, rendering the task of impressing the user within the first 5 seconds challenging.
While outstream and slider ads might be less noticeable, they tend to generate more genuine ad impressions — once the user notices an ad of interest, they will click on it because they truly want to. They don't have to be as catchy as in-streams at the beginning, but they have to be able to draw the user's attention at any point of time. So once the user stumbles upon the muted video ad, they feel the urge to click on it.
Video ad spots can be bought on many platforms. First, check out video hosting sites like YouTube, which has inventory that can be bought using Google Ads. As mentioned earlier, YouTube is a great place for in-stream ads, because video support is provided by default. Moreover, social networks like Facebook are a great place to showcase the outstream and slider ads — check out Meta Business Suite.
Alternatively, tons of traffic can be found on ad networks. TwinRed, ExoClick, Adsterra, Undertone, or OpenX — they all work with video ads, which can be tailored to promote almost any vertical and product. The best video ad networks out there provide all the required technologies to run, report, and optimize the campaigns. Most of the time, the ad spots are bought and sold via Real-Time Bidding, but Programmatic Direct and Preferred Deal are out there as well. Among the most video ad friendly verticals are: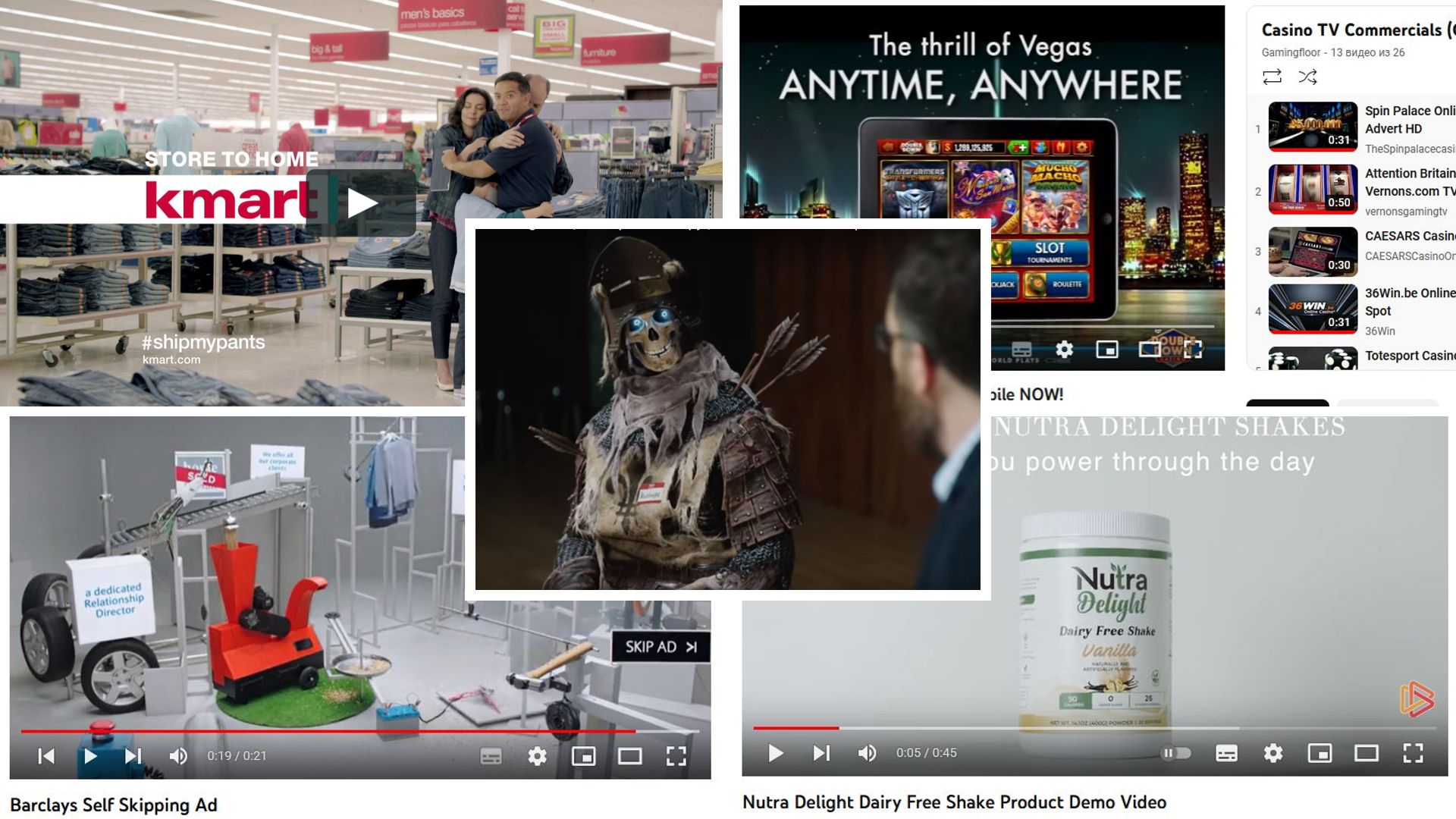 E-commerce

: demonstrate some charts and performance results of using a product. If it happens to be some kind of sports gear, you can

appeal to the adrenaline rush

felt during a tournament. Go for unboxing videos if you want to build up a close relationship with your clientele.

Finances

: try to comfort your users with a sense of security, display a confident person walking, bring up family values. Remember, you are not limited to real-life recordings and can

play around with the animation

, which can make your ads less formal and more relatable.

Gambling

: spinning, winning, and more psychedelic colors. The anticipation of the jackpot is worth more than the jackpot itself, so bring up the emotions and people's joy from winning. Make the users feel as if they were kings and queens, whose only responsibility is to get entertained.

Gaming

: Focus on gameplay, admit the problems like

antisocializing

to get on the same foot with the audience, or highlight strengths like

immersive gameplay

and platform exclusivity.

Nutra

: compare the results before and after the use of a product. Try to squeeze in an interview with a happy real buyer — people are more likely to trust the opinion of their peers, even if they are paid for it.
With a bit of creativity, video ads can be adjusted to target almost any niche on the market. However, the question is, how to make a video ad that will grab the user's attention in the first 5 seconds successfully?
How to make video ads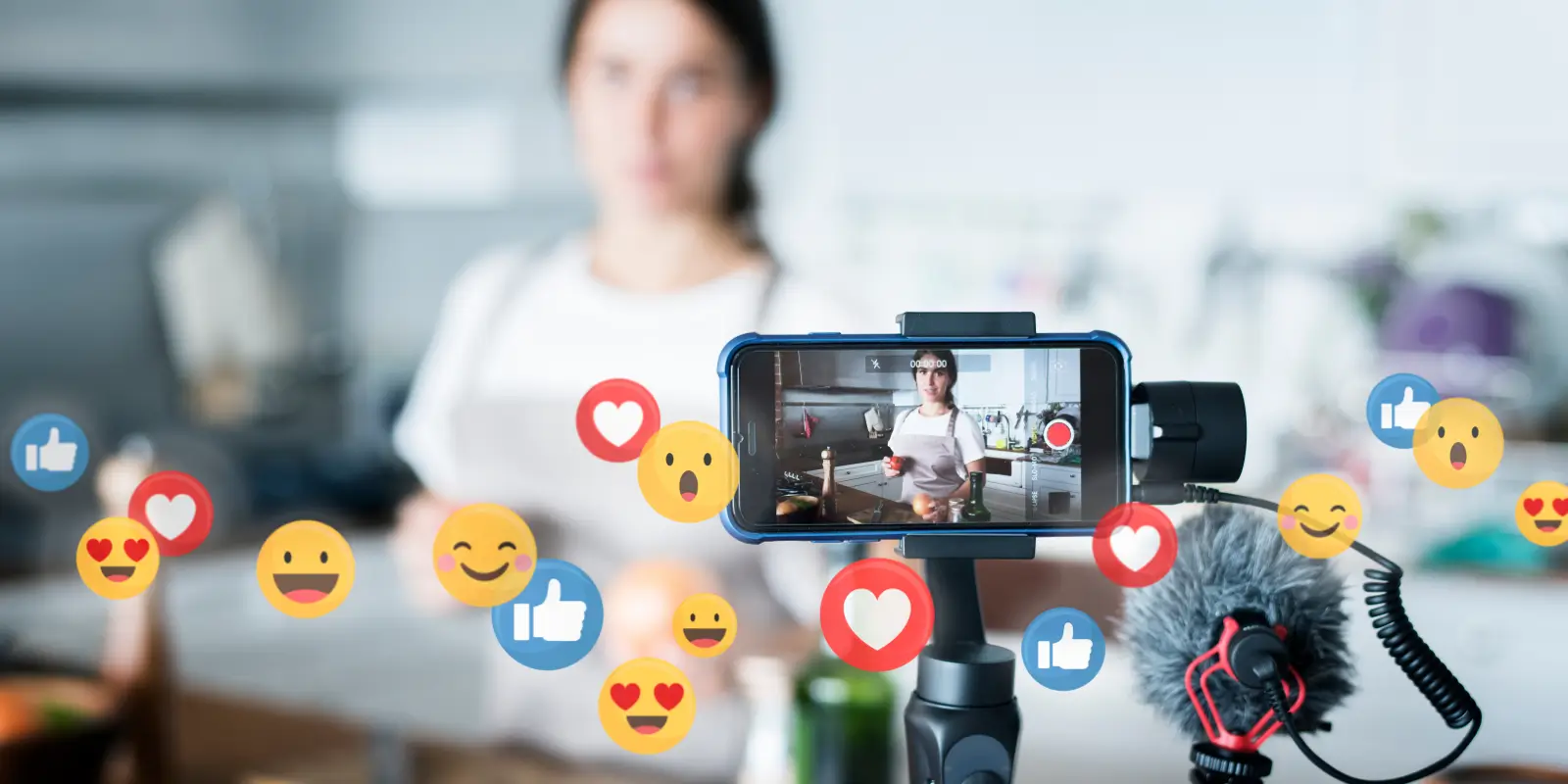 A good video ad has to grab the user's attention right off the bat. That's the reason it is ill-advised to put any brand logo in the beginning, unless you're Apple or Microsoft. Speaking of Microsoft, the company managed to create a captivating ad, which appeals to the sense of nostalgia.
Alternatively, make the users laugh, or smile at least, so the ad is more memorable. That's the case with two commercials by K-Mart: one is called "Ship My Pants" and another is "Big Gas Saving". This kind of borderline swearing has a problem though – it might work out once but can get repetitive after each subsequent use. Furthermore, word plays are not translatable to other GEOs, making such kinds of creatives highly specific.
To create a video ad, you have got 3 options available: outsourcing, generating with AI, and making it yourself: 
Outsourcing

to professional videographers is a great way of obtaining the content of quality, but for a price. It is also less stressful and has the added bonus of an expert producer. Make sure the expert or crew you hire specializes in video production and have vast expertise in the field. Order your video ad to match the design of the platform you will work with. Glaring and mismatching ads don't make them more appealing and can turn even the most loyal audience away. Contact the video maker either directly or using

the aggregators

.

Artificial Intelligence

has grown very smart, up to the point it can make videos out of the uploaded text and images. Many tools like this have a trial or free version available, with a limited functionality. Still, AI generators can save on costs and are in between outsourcing and DIY. A solid choice if you are ready to make adjustments after the algorithms are done and do not want to overspend. Here is the compilation of

17 good AI video generators

.

Do-It-Yourself

is the most straightforward approach, but with a serious flaw. Remember that video ads grow more popular every day, making the competition especially harsh. You have to be able to impress your audience within a 5-seconds span, or better 3 seconds, which is a tremendous effort. Video content can be created using one of three ways: camera-shooting, animation-creating, or desktop-recording. Either way, you have to dedicate your time and effort to make your video ads stand out, much like with the

landing pages

. Read more about

DIY creatives in our blog

.
DOs & DON'Ts
Let's make a quick recap of good habits, practices, and qualities of a video ad:
Treat your videos as if they last 3–5 seconds only and design them accordingly

Capitalize on strong emotions: nostalgia, humor, fear – your ad must scream out

Adjust the colors, fonts, and overall style to match those of a platform you promote your video ads at for more native look

If you outsource your video ads, make sure to check the portfolio of the company and verify their expertise

Learn more about culture, fears, and needs of people to take advantage of that knowledge and use it in your creatives

Break the fourth wall by playing around with the skip button:

make it an obstacle

,

a self-skipping button

, or even

dare the user to press it
Some practices should be avoided by all means necessary, here are a few examples:
Making videos heavier than necessary

– not even

lazy loading ads

can save the user experience from slowly loading ads, keep everything simple and to the point

Saving the overkills for last — once 5 seconds pass, your user will leave if not hooked, everything beyond this point will be ignored

Assuming your audience cares — you are the ones disturbing the status quo, engaging the user into a purchase, so do your best to offset this nuisance with the advantages that can actually solve a user's problem

Ignoring A/B testing — every video ad element is equally important and split-testing is the only way to perfect them, so your ads can withstand the competition
Conclusion
Video ads are close to being the pinnacle of user's engagement. They have huge potential, which must be unveiled quickly before the user has a chance to press the skip button.
In-stream, outstream, and slider ads have their own unique advantages, so there is no one-size-fits-them-all approach. One thing to remember, though, is that like any other ad type, your videos must offer a solution to a user's problem. However, your solution may be skipped or go unnoticed if you fail to grab the user's attention instantaneously. Break the fourth wall; sympathize with the users in their irritation about ad breaks, state your business clearly — your ad has to take one step at a time, before delivering the main value. This sequence assures your prospects are captivated and not overloaded with information.
Video ads are applicable to practically any platform or vertical, independently of the user's device. In-stream, outstream, or sliders must complement the platform and not mismatch it. Make sure the visual, audial, and textual information synergize with each other to make your ad irresistible. And remember, Yep Ads is always by your side. We have a vast experience in working with practically any advertising formats and are willing to share the insights with you.